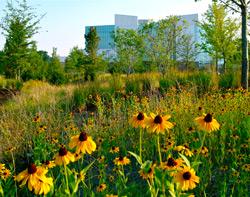 MESA has embraced ecologically appropriate design solutions since our inception in 1984. We believe strongly in the core principles of Equity/People, Environment/Place and Economy/Prosperity. We continue to strive to stay abreast of materials and methodologies as the industry continues to evolve. Even when projects are not formally acknowledged as "green" we develop solutions that assist in conserving resources and seek ways to integrate projects into the contextual natural systems and communities in which they are built.
We use an inclusive approach to design and planning and work to bring all stakeholders into the planning and design process. Our commitment to an "integrated design process" means broad constituencies are present from the beginning of projects and their respective voices are part of the design solutions. We believe design teams need to be collaborative and not just multi-disciplinary. Inclusion of all perspectives and affected persons or communities must be part of any effective process.
We are committed to re-establishing degraded and fragmented natural systems and habitats and believe we have a responsibility to inform our clients and community of impacts and opportunities that are outside project limit lines. We are convinced the built environment can be successfully integrated into the natural environment with sensitivity to the unique characteristics of place. A regenerative approach looks for opportunities to restore the damage and mistakes of the past and is cognizant sites are part of a living and dynamic system.
The principle of Equity/People has been overlooked for too long in our society and our conversations related to sustainable practices. We must find a means to include people from all corners of our communities. We believe development must include people and their well being equal to the environmental and economic considerations. We strive to look at life cycle and long-term costs and not just an immediate bottom line assessment as part of the decision making process.
Haikou Beigang Development, Haikou, China
MESA was asked to develop a long-term vision for a proposed resort outside of Haikou, China. The concept for the highly degraded 1000-acre property included restoration of the coastal dune, mangrove forest and natural systems. The project was conceived as a model of new development practices. Proposed features include site restoration, renewable energy, car free zones, food production and staff housing, black and grey water treatment and reuse systems, adoption of LEED rating system, extensive native landscape and habitat creation.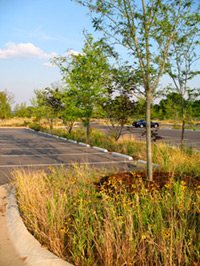 Arkansas Department of Environmental Quality
MESA incorporated many green features in the design and operation of the new headquarters for the Arkansas Department of Environmental Quality. The project exemplifies innovation, attention to detail and effective natural resource conservation measures. As a result, the project was awarded a LEED-GOLD certification by the US Green Building. The 10-acre site was transformed from a barren site previously filled into a lush habitat interpreting several of the natural environments of Arkansas while linking the site to the river park to the south.
The Pritzker Children's Zoo at Lincoln Park Zoo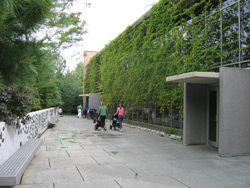 Employed a variety of green and sustainable features. The most successful and visible of these is a vegetative green wall that provides shading of a glass wall during the summer months while allowing winter sunlight to warm the interior building space while serving as part of an infiltration system for stormwater management. This element won a Chicago AIA Divine Detail Award. Other features include extensive native plant palette, living roof, living wall and storm-water infiltration and management.
The Botanical Garden of the Ozarks
This project involved developing the first phase of site design for the garden, including the visitor center, parking, and adjacent outdoor gathering spaces. The project included a variety of "green" design principles and concepts including: local materials, rainwater collection cisterns for irrigation and non-potable water use, low flow irrigation, native plants, bioswales and rain gardens.
Selected Projects
Arkansas Department of Environmental Quality State Headquarters, LEED-Gold, 2008
Argenta CDC, LEED Homes Gold (an affordable homes pilot project with consulting provided by AR Chapter members), 2007
Powers of Arkansas Corporate Office, LEED Registered, 2008
Ritter Communication Corporate Headquarters, LEED Registered, 2010
1900 Cantrell Building, LEED Registered, 2010
Toledo Zoo Aquarium, target LEED-Silver, 2010
Private Residence, target LEED-Gold, 2010
Shoreline and stream bank restoration, Arkansas State Parks, 1998-2006
Botanical Garden of the Ozarks, 2007
Lorance Creek Interpretive Trail, 2006
Pritzker Family Children's Zoo, Lincoln Park Zoo, Chicago, 2005